Plans simples
Tous les plans incluent Tâches illimitées, Projets et Stockage.
facturé par mois
facturé annuellement
Epargnez 25%
Comparer les offres
Core Applications featured in every plan
Fonctionnalités Premium et modules complémentaires
Overview
Le quoi, le pourquoi et le comment d'un projet.
Issue Tracker
Un outil simple de gestion de tickets que vous apprécierez d'utiliser.
Wiki
Créez des documents riches en fonctionnalités pouvant avoir facilement plusieurs versions avec des discussions approfondies. Rendez les Wikis privés ou publics avec une URL partagée.
CRM
N'oubliez plus jamais une réunion ou un suivi avec le CRM.
Invoices+
Facturez les clients et envoyez-leur des estimations agréablement présentées avec notre facturation facile à utiliser. Fonctionne parfaitement avec notre application de suivi du temps.
Tableaux de bord
Track progress and share results, personally tailored for your team
Project Copy
Transformez n'importe quel projet en modèle et utilisez les modèles pour créer de nouveaux projets intelligemment.
Google Drive, Dropbox, OneDrive
Liez facilement des fichiers présents sur le cloud comme s'il s'agissait de fichiers téléchargés via le système.
Et plus
Freedcamp Enterprise
Freedcamp has features to support teams with hundreds of people who require larger-scale user management, access control, and security support.
Liste en vedette
Caractéristiques et intégrations générales
FREE
PRO
BUSINESS
ENTERPRISE
Prix par utilisateur/mois
$0
$1.49
$7.49
$16.99
Limite de taille de fichier
Taille maximale de téléchargement d'un seul fichier, le stockage total des fichiers est illimité sur tous les plans.
10MB
25MB
100MB
250MB
Support
Standard
Premium
Advanced
⚡ Lightning Fast
Collaborateurs
Les collaborateurs sont des utilisateurs gratuits sur les forfaits payants.
Illimité
Illimité & gratuit
Illimité & gratuit
Illimité & gratuit
Core Apps
Includes: Tasks, Discussions, Calendar, Files, Milestones, Time, and Passwords.
Public Projects
Spread awareness about your work and make a project Public!
API
Zapier Integration
Connect to other applications easily.
Email-In
Create tasks, discussions, issues or upload files by sending an email to Freedcamp.
Google drive integration
Link files from Google Drive with ease just as if it's a file that was uploaded through the system.
Google shared drives
Formerly known as Team Drives - files in shared drives are owned by the team/group rather than an individual.
OneDrive integration
Link files from OneDrive with ease just as if it's a file that was uploaded through the system.
Dropbox integration
Link files from Dropbox with ease just as if it's a file that was uploaded through the system.
Project Copy
Turn any project into a template and use templates to create new projects intelligently.
Tags
Tag items and comments, easily search by tags. Tags enhanced controls on Business and Enterprise plans.
FileEdit
Saves your time by automating the downloading, editing, and finally uploading your documents back to Freedcamp.
Reports
Data snapshots
All your data and files saved by us periodically and available to download.
White label
Customize Freedcamp with your company's branding.
2FA
Two-factor authentication provides an extra layer of security to the sign in process.
SSO with SAML
Access Freedcamp with corporate credentials using SAML-based SSO (beta) - Microsoft Azure AD, Google SSO, Okta.
Tasks Features & Addons
FREE
PRO
BUSINESS
ENTERPRISE
Data Feed Links
Create your own reports which will update automatically.
Subtasks Pro
Give subtasks all functionality and properties that usual tasks have and unlimited nesting.
Copy/Move Tasks & Lists
Bulk Edit
Start date
Recurring Tasks
Gantt Chart View
Table View
Custom fields
Create extra fields such as: text, drop down list, date, number, checkbox and text area to customize your tasks.
Custom Statuses
Statuses are steps that tasks go through, commonly known as workflows. Default statuses can be customized via templates and applied to projects.
Multiple Assignees
Milestones Features & Addons
FREE
PRO
BUSINESS
ENTERPRISE
Start date
Bulk Edit
Calendar Features & Addons
FREE
PRO
BUSINESS
ENTERPRISE
Calendar sharing
Recurring Events
Google calendar sync
Have your Freedcamp calendars synchronized with Google instantly.
Other Premium Applications
FREE
PRO
BUSINESS
ENTERPRISE
Wiki
Create feature-rich documents which can easily have multiple versions with in-depth discussions.
Invoices+
Bill clients and send them estimates with our easy to use invoicing.
CRM
Manage contacts, easily stay on top of deals and leads.
Issue Tracker
Handle support, keep track of bugs, or use as your main task management.
Overview
See the project's details and recap. Customize projects by adding custom fields. Post project updates.
Reports
A visual representation of how your projects are progressing, through burn-up charts and pie charts at project and user levels.
Planner
The Planner application brings together tasks, milestones, and issues that help teams to plan, organize, and track the progress of their work.
Translations
Easy-to-use solution for localizing software & digital content.
Dashboards
Track progress and share results that are personally tailored for your team with the Dashboards.
Loved by more than 500K teams in 195 countries
Active user billing
Freedcamp vise à toujours offrir les prix et la facturation les plus abordables et transparents. Notre système d'avertissement d'utilisateur actif vous aide à limiter les coûts en vous donnant un compte précis du nombre d'utilisateurs actifs sur votre dernière période de facturation. Cela vous permet de réduire le nombre de sièges achetés et, par conséquent, votre facture du mois suivant. Consultez la FAQ sur la facturation pour en savoir plus.
We have Read-Only and Guest roles - 'collaborators' are perfect for clients and people in your organization who only need to observe work and/or occasionally comment.
Users invited as collaborators are not counted as active users and are free on our premium plans making Freedcamp even more affordable and easy to adopt.
Ces autorisations sont parfaites pour impliquer des prestataires, des clients et des coéquipiers d'autres départements, et ce, de manière totalement gratuite.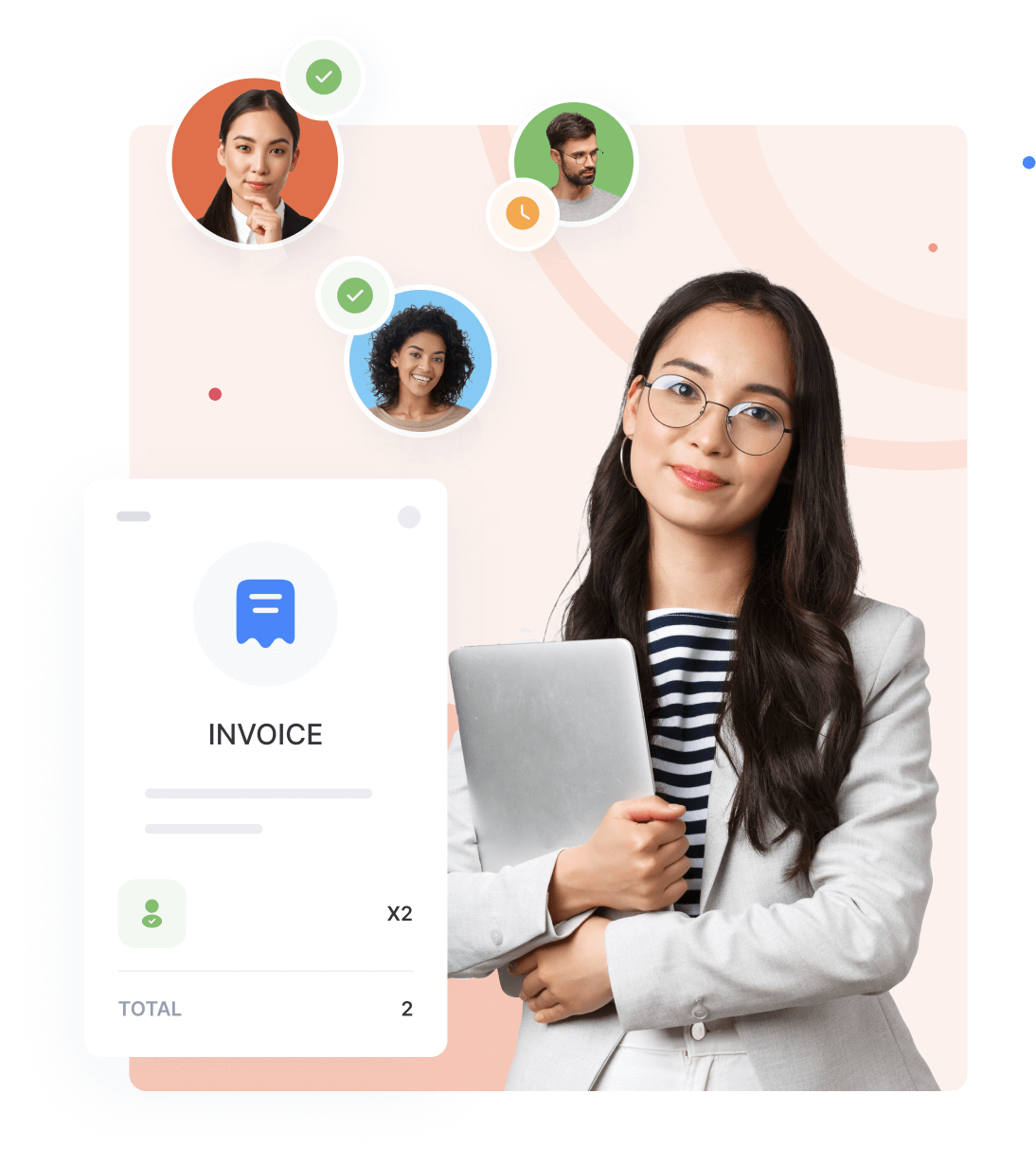 We Care About Our Customers Experience
"Freedcamp isn't just a tool for us — it's the backbone of our project management strategy, bringing a newfound level of coherence and synergy to our work. We are immensely grateful for the positive impact it has had on our company and enthusiastically recommend Freedcamp to any organization seeking to elevate their project management game."
"Freedcamp provides a super low entry barrier due to great user experience and ease to use. Its customer support is very fast and efficient. Every time I have a suggestion for improvement I speak directly with the decision makers and get instant responses"
"You guys are fantastic! We were jdiscussing the nature of "Customer Service", and how horrendous our experiences usually are. We thank you for being a shining example of how companies should respond to and treat their customers!"
"Freedcamp is a very intuitive project management platform! I use less than half of all features and, yet, I have everything I need. It is easy to add lists and tasks and but also see the big picture. I like that I can add as many people as I want for a project while having full control of what they can see and do."
"Our Veterans project went really well, we raised over $40,000 for Veterans and again, the government has asked to do this again this year, this time with the twist we will be training up to 40 Veterans on Box Fit followed by a boxing competition during ANZAC week, our Veterans memorial day, which we have a target of $80,000 to raise.

Couldn't do this without Freedcamp! Your continued support for us is truly appreciated."
Freedcamp pour le public
Are you a student, teacher, or part of a non profit organisation?
And want to use Freedcamp to collaborate on projects? Eligibility requirements are explained in more detail in the Freedcamp for Nonprofits FAQ and the Freedcamp for Education FAQ.
Options spéciales pour votre équipe et votre entreprise
Pour être pris en considération pour les options de tarification spéciales basées sur les qualifications de votre équipe et de votre entreprise, veuillez remplir la demande Freedcamp for les applications sans but lucratif ou le Freedcamp for l'application éducation .